New Delhi: Reliance Jio Infocomm toppled Vodafone Idea to become the largest telco by access services revenue, underlining growth of the new entrant in contrast to pressure on older operators, including Bharti Airtel, that saw a fall in numbers, according to the regulator's data for the quarter ended September.
Jio saw its adjusted gross revenue (AGR) from access services, or revenue derived from licensed services, rise over 16% on-quarter to Rs 8,271 crore at end of September, according to data released by Telecom Regulatory Authority of India (Trai) on Tuesday.
In comparison, Vodafone Idea, the largest telco by subscribers, saw a fall of 8.5% in access services revenue to Rs 7,528 crore, while Bharti Airtel slipped 1.31% to Rs 6,720 crore.
The telecom industry's AGR shrank 1.12% to Rs 36,142 crore. Access services contributed 71.18% of total AGR of telecom services.
However, Jio continues to be the third-largest based on subscribers. Despite adding the highest subscribers — at 37 million — in the quarter, Jio had a subscriber market share of 21.57%. Vodafone Idea continued to be market leader in this segment, with a 37.20% market share, while Bharti Airtel was the second largest with 29.38% market share.
Industry experts say this implies Jio has subscribers who, on average, contribute more to topline than its rivals, a key reason why Vodafone Idea and Bharti Airtel have introduced minimum recharge plans that force dormant subscribers to do a minimum monthly recharge, potentially pushing up ARPUs.
The Mukesh Ambani-owned telco continues to exert pricing pressure on the industry, which is desperate to see rounds of tariff hikes for revenue recovery and a return to profitability, early signs of which are visible, say analysts.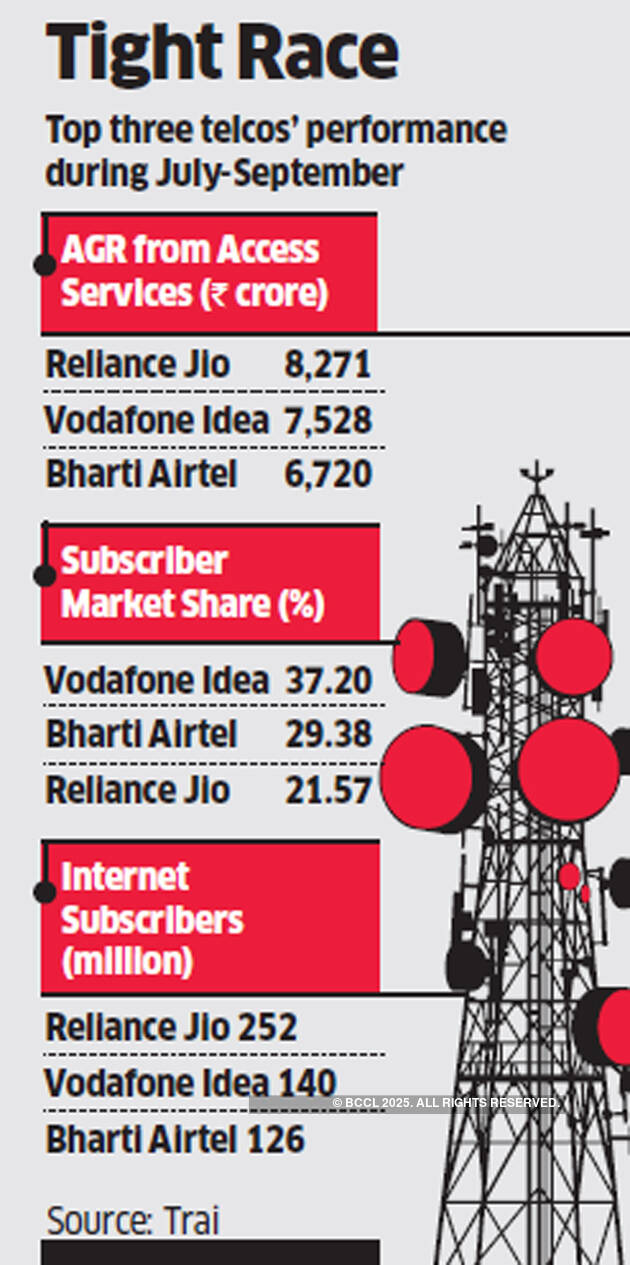 Licence fee for July-September declined 1.35% sequentially to Rs 2,889 crore, while spectrum usage charge (SUC) increased by 1.51% to Rs 1,043 crore. These two components are paid by the telecom companies to the government basis their AGR.
Trai also said blended average revenue per user (ARPU) per month declined to Rs 67 in the September quarter, from Rs 69 in the June quarter, due to pressure on rates.
The low rates led to higher consumption of services with the all India average of minutes of usage (MOU) per subscriber per month increasing from 607 in the June quarter to 627 in the September quarter, showing a 3.29% growth.
Jio also had most internet subscribers, at 252 million, recording a 45.04% market share during the quarter. Vodafone Idea was the second largest internet service provider, with 140 million subscribers, while Bharti Airtel was third, with 126 million subscribers at Septemberend. Vodafone Idea had a 25% market share while Airtel had 22.67%.